| | |
| --- | --- |
| Find free wi-fi internet hotspots and wireless networks in Greece! | |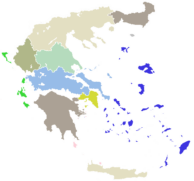 There are hundreds of free hotspots available to you in Greece!
Whether under the sun relaxing, or on the move exploring, Greece is a great place to enjoy a wifi connection.
Especially when it is free!
And chances are that it will be, as Greece has become a passive leader in the free wifi world by quietly following the wave of this popular trend.
By 2010, Greece can boast of having over 400 municipal free wifi access spots, seemingly countless hotspot locations offered by cafe-bars and hotels, as well as several grassroots wireless community networks across the country.
| | |
| --- | --- |
| What is a wifi hotspot? | |
A wifi hotspot is location (cafe, hotel, restaurant, town square, library, port) that allows you to connect to the web wirelessly, using either a laptop, a palmtop (PDA), a portable game console or a wi-fi enabled mobile phone.
Read more...
Does Your Business Offer Free Internet?
| | | | |
| --- | --- | --- | --- |
| What is hotspotting credit? | | | |
Do you know of a free hotspot not listed in the directory?
Would you like to include your city on free-wifi.gr?
Become a hotspotter, register now and start hotspotting!
By submitting free hotspot locations you contribute to the community and earn hotspotting credits for your participation.
Read more...